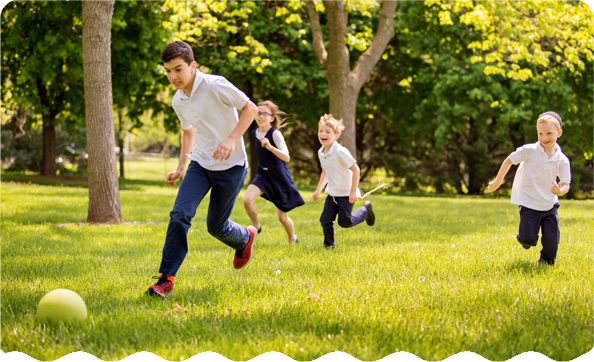 Wellness
We are focused on nurturing the whole child. This includes supporting students' physical and mental health through nutritious food, physical activity, and social and emotional learning.
Nutrition
We offer a kosher hot lunch for $4 per day, five days per week. Our menu plan was designed by a pediatrician and a dietician and focuses on whole grains, fruits, and vegetables. Alternatively, students may bring their own, vegetarian lunch from home. Our school garden offers many opportunities for lessons about nutrition (and chances to sample our produce!).
Physical Activity
We know how important physical activity is for students' academic success and all-around health. In addition to twice-weekly physical education classes, elementary school students have daily active recess. Our middle school students will have daily "wellness" time, during which they can choose between physical activity and other wellness-focused activities, such as journaling. Finally, our teachers make sure to build in plenty of movement during the school day. It's not unusual to walk into a classroom and find students dancing or working on the floor using clipboards.
Social and Emotional Wellness
While Friedel offers excellent academics, we believe that mental health and character education—teaching children to be good people—are just as important as academic success. We work hard to foster an environment of trust, kindness, and community.
We do this through a variety of methods, including the Boys Town Well-Managed Schools program. Well-Managed Schools is a research-based, positive approach to teaching classroom skills related to related to communication, discipline, decision-making, relationships, and self-control while keeping joy in the classroom. Friedel teachers are trained in this program, and we have seen a very positive impact on classroom dynamics since implementing the program during the 2018–2019 school year.
Our older elementary and middle school students also have regular classroom sessions with an art therapist, exploring and expressing ideas such as individuality and community through fun, hands-on projects.