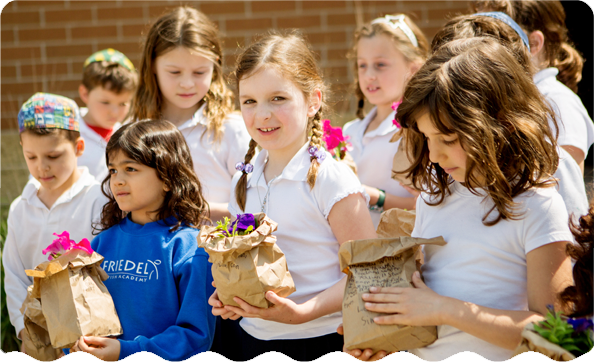 We're looking forward to welcoming you to Friedel. Here's how to apply.
Schedule a Visit
There's no better way to find out all that Friedel has to offer than to see it for yourself! To arrange for a personal tour, contact Beth Cohen, Head of School, or Sara Kohen, Director of Advancement.
Complete an Enrollment Form
A simple one-page enrollment form, along with a signed enrollment agreement and $100 refundable deposit, is all that is required.
Schedule an Assessment Test
All students entering Friedel will participate in an assessment test with the General Studies teacher of their grade.
For entering kindergarten students, a $50 fee is assessed for the Kindergarten Readiness Test from Scholastic Testing Services, as administered by our kindergarten teacher. The test is a developmental screening measure designed to assess skills that are the foundation for academic and social success in the classroom. The kindergarten readiness test, along with student birth date, is used to assess entrance into kindergarten.
For older students, those entering first grade and beyond, a general assessment of grade-level skills is administered by the General Gtudies teacher of their grade. In addition, an assessment by a Jewish Studies teacher and receipt of records from previous school(s) may be required before enrollment. There is no fee for assessment testing of older students.
Notification of Admissions Decision
Upon completion of assessment testing, the admissions team will evaluate student placement and will inform parents of admittance into Friedel.
Complete Admissions Forms
Once accepted as a student at Friedel Jewish Academy, you will receive a packet of information and forms. The packet is sent out to families in mid-July, and forms are required to be completed before the first day of school.