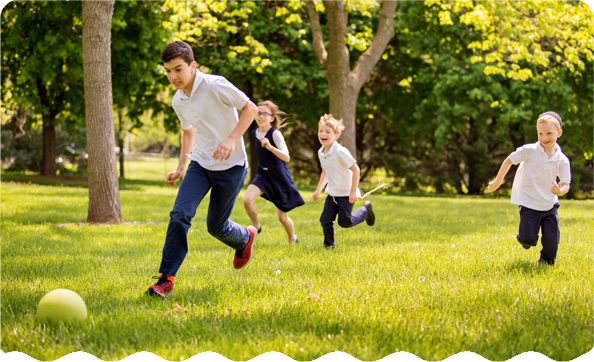 School Culture
Educating the Whole Child
At Friedel, we know that education extends beyond academics. While Friedel offers excellent academics, we believe that character education— teaching children to be good people—is just as important as academic success. We actively work toward this goal through everyday encounters—such as giving older students chances to help and mentor younger students—and through a dedicated character development curriculum.
Community & Diversity
Friedel Jewish Academy is a community day school. Our students come from families across the entire range of Jewish practice and affiliation, as well as non-Jewish students who attended the Pennie Z. Davis Early Learning Center ("ELC"). We work to build respect and community among all students and their families.
In addition to fostering a culture of respect and caring within in our school community, our students regularly connect with others on campus—including preschoolers at the ELC and seniors at the Rose Blumkin Jewish Home—and across the broader community. For example, during the 2022–2023 school year, Friedel first and second graders began a pen pal program with students from Nelson Mandela Elementary, culminating in end-of-the-year field trips when students hosted their pen pals for a visit to each school.
Our Campus
We are located on the Jewish Community Center campus. Our students take advantage of the JCC facilities—including the pool, basketball gym, and theater—regularly during the school day. Many families also choose to enroll in after-school activities such as athletics or dance through the JCC.