Admissions
Admissions/Our Parents Speak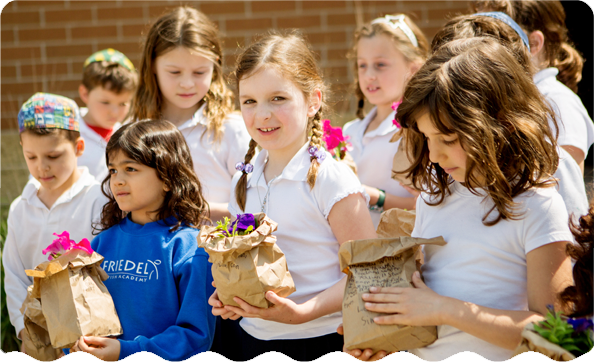 Read what our parents have to say about the experience of their children at Friedel.
"I know both girls feel that the confidence, encouragement, and individualized learning and care they received at Friedel gave them a strong foundation for their future education. When Lilly was selected as a Presidential Scholar for the State of Nebraska, she wrote in her essay that Friedel 'set the bar for what learning could and should be."
Julie Phillips
"Friedel is a wonderful alternative to afternoon religious school. It is a school which forms a very positive Jewish identity, is small enough to foster individual interests such as writing, public speaking, art, and friendships with Jewish kids from other backgrounds and synagogues."
Aveva Shukert
___________________________________________________________________________
Friedel Jewish Academy graduates: how do they fare in Middle School?
by Ozzie Nogg
When parents ask themselves, "Should we enroll our child in the Friedel Jewish Academy?" one of the questions they often ask Beth Cohen, Friedel Head of School is, "Will my child have any trouble, either academically or socially, when they transition from the small, loving environment of Friedel and move on to a much larger public middle school?"
"I can assure them," Beth said, "that our graduates are well positioned to be successful in a 'big, bad' middle school even though they didn't attend a feeder elementary school. During the course of my job as Head of School, I speak with the administrators from the schools our students move on to after graduation. Over and over again – from the magnet coordinator at Beveridge to the admissions staff at Brownell Talbot – I hear how prepared our students are academically and socially. They know what it's like to work hard in class, and they have the self-confidence to join clubs and athletic teams."
Debbie and Alan Kricsfeld's children, Sam and Rachel, had little trepidation about moving from Friedel to middle school. Their mother, on the other hand, did. "I was worried about them going to the bigger school and getting lost in the shuffle," Debbie said, "but our kids flourished." The Kricsfelds think that not coming from a feeder school actually was an advantage for Sam and Rachel. "They each tested out of 7th grade algebra and went into honors algebra, and the same for English," Debbie said. "Each of our kids is successful, in his or her own way." While at Friedel, Sam, now 17, competed at the district level for the Woodman of the World Speech contest. As a Millard North senior, he has maintained superior academics and has been accepted into the Honors Program at the University of Kansas where he'll begin studies this fall at the School of Architecture, Design, and Planning, majoring in Industrial Design. Sam is an avid piano player, car enthusiast, car blogger and Beatles fan. Fourteen-year old Rachel, an 8th grader at Kiewit Middle School, will attend Millard North next year. While at Friedel, she also competed at the state level for the Woodman of the World Speech contest. Rachel is a Superior Honor Roll student, is part of the JCC Dance Training Company, plays the violin, ukulele, and – like her brother – thoroughly enjoys the Beatles. According to Debbie Kricsfeld, "A combination of the encouragement and motivation they got at home, along with Mrs. Bennett's fabulous job preparing the sixth graders for what was to come, helped Sam and Rachel leave Friedel with all the tools and skills needed to succeed." Mrs. Denise Bennett has been a teacher at Friedel for twenty-eight years, and currently teaches 5th and 6th grade General Studies. "It was Denise who brought the Modern Woodman of America speech contest to Friedel," Beth Cohen explained, "and the annual preparation she does with students on speech writing and delivery is one of the hallmarks of her classroom."
Thanks to Mrs. Bennett, Friedel students are not shy when it comes to public speaking, and many Friedel alums have awards to prove it. Jacob Katzman, son of Julee and the late Rick Katzman won the Modern Woodman of the America state speech contest in 1994; Elissa Weiner, daughter of Richard and Audrey Weiner, took home the prize in 2008; and Sara Kutler, daughter of Nancy and Howard Kutler, was the 2009 champion. Steve and Tippi Denenberg's son, Danny, another Friedel graduate, won the 2015 Heisman Trophy of speech contests when he took first place, out of over 90,000 competitors, in the national level of the Modern Woodmen of America speech competition held in New York City. A budding thespian, Danny also received the Omaha Community Playhouse Charles Jones Award to Recognize Excellence in Performance, along with the Theater Arts Guild (T.A.G.) Best Youth Actor Award in 2015 and 2016, and last month received 2017's Omaha Entertainment and Arts Award for best youth performer. Danny currently attends Brownell-Talbot.
"Danny initially had a gloomy few months transitioning from Friedel to Brownell," Tippi Denenberg said. "Nothing in particular. He just wasn't used to moving about a large school and he missed the 'haimishness' of Friedel, missed what he called 'his people.' But now he has a fantastic circle of friends, he loves his classes, and he's making great marks." Danny is active in Pep Band and Jazz Band at Brownell-Talbot. "That's all he has time for," Tippi said, "because of his involvement in theater, piano, and tennis. He would be eligible for the tennis team at Brownell next year, but he's opted to move on to Central for high school. He has no fear about going to an even bigger school. He's now 100% at home in 'the diaspora.' Corny as it may sound," Tippi continued, "Friedel gave Danny a sense of self, a reinforcement of his – and our family's – core values. He's a proud Jew who integrates well in all areas of his life. Our daughter, Sima, is currently in 2nd grade at Friedel. Sasha is in 4th grade. We're watching them reap the benefits of a Day School education, too."
After graduating from Friedel, twin brothers Ari and Ethan Finkelstein transitioned to 7th grade at Kiewit Middle School. "Friedel gave our kids a real head start, so both boys are enrolled in the 8th grade math class," said their parents, David Finkelstein and Rebecca Ruetsch-Finkelstein, "and both are on the honor roll. They're also very involved in extra-curricular activities." For Ari, that means participation in a city-wide band competition this spring, membership in the Kiewit Writing Club, and a spot in the Omaha Junior Olympic Archery Division. Ethan Finkelstein continues to enjoy Taekwondo — he's earned a 2nd degree black belt — and also plays on the JCC basketball team. In the fall of 2017, he plans to tryout for the Kiewit basketball team. "Both boys also stay busy at Beth El," their mother said. "They're studying for their April 22 Bar Mitzvah, attend Saturday morning services each Shabbat and are active in the Beth El youth group, Kadima. They moved very smoothly from Friedel to Kiewit." The Finkelstein's son, Asher, is currently a Friedel Academy 1st grade student.
For Ilana and Leora McNamara, daughters of Aviva Segall and Patrick McNamara, the transition to Beverage Magnet School went without a hitch. "Friedel alumni have a strong sense of identity," Patrick McNamara said, "and that's the most important thing middle schoolers need to succeed. The roots in a small and close-knit elementary school were essential to building that sense of self. The smaller classes and individualized instruction at Friedel positioned both Iliana and Leora to achieve higher academic success at Beveridge than their peers who attended public elementary schools. We are so glad we made the Friedel choice."
Over the years, Friedel students have distinguished themselves in many ways. In 2012, Friedel graduate Lilly Phillips, daughter of Julie and Eric Phillips, was named a Presidential Scholar, one of two high school seniors selected from each state based on academic success, community service and leadership, plus completion of an essay that recognizes the teacher who most influenced their education. "I nominated Friedel Jewish Academy teacher Denise Bennett," Lilly said. "I shared how Mrs. Bennett set the bar for how learning could and should be. How having been in an environment where reading was a competitive and cherished pastime, the more facts you knew the cooler you were, and math was – dare I say it – fun? She instilled in me a love for learning that I've seen so many of my peers lose."
Between 2014 and 2016, Friedel graduates were named to National Junior Honor Society; selected Kiewit Middle School Student of the Month; selected Student of the Week at Beveridge Magnet Middle School and King Science & Technology Center; won State Champion as a Level 7 Trampolinist; and placed First in Beveridge Middle School Optimist Essay Contest. "And here's a great statistic," Beth Cohen said. "During the 2015-2016 school year, eight Friedel graduates attended Beveridge Magnet Middle School. Of those eight students, seven of them were in honors classes."
When parents of prospective students ask Beth Cohen, "Why should we enroll our child in the Friedel Jewish Academy?" she points to the accomplishments of Friedel graduates and the satisfaction voiced by their moms and dads. "It's hard to deny the evidence. Our students learn how to learn, how to think critically, how to be inquisitive, how to be confident in asking questions. These are skills that we teach day in and day out. These are the life skills of learning. With these skills, Friedel Jewish Academy students transition with great academic success to middle school, high school and beyond."