Admissions
Admissions/Our Alumni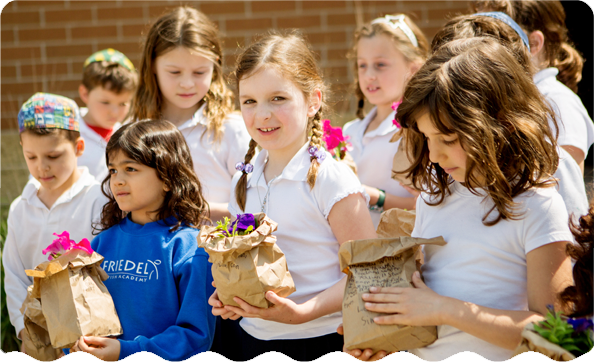 Friedel alumni go on to become accomplished Americans, leaders in their fields and engaged Jews.
Adam Rich, graduated from the school in 1993. When he started in 1986, Friedel had classes from kindergarten only through third grade. But while he was attending the school, the grade level extended through sixth grade, allowing Rich to benefit from "amazing field trips; winter and spring plays, musicals, and programs; and oration competitions."
After graduating with honors in 1999 from Harry A. Burke High School, Adam, one of Diane and Philip Rich's three sons, who all attended Friedel, began classes at the University of Kansas. He had been accepted to the University of Nebraska at Lincoln, Iowa State University, and Kansas State University, as well as all four of their Colleges of Architecture. Rich earned a bachelor of architecture in 2004, as well as a bachelor of arts with a major in psychology.  Rich lives with his family in Overland Park, Kansas, where his children attend Jewish Day School.
 According to Rich, "Jewish traditions and morals were compared, correlated, and intertwined with the daily skills that were taught to me at Friedel. How lucky I am to live my life as a proud Jew, because I was taught so many life skills and values at such a young age."
---
Rachel and Ariel Shukert are both graduates of the school. Rachel earned a Bachelor of Fine Arts degree in acting from the Tisch School at New York University, is the author of books, several plays produced in New York City, online and print media columns, and a television show, "The Red Band Society," currently broadcasting on FOX.
Ariel attended Washington University in St. Louis where she earned her BFA. She is an art director and graphic designer for an ad agency writing and producing television commercials including one that aired during the Super Bowl. Both young women live in Los Angeles with their husbands.
---
Our graduates have used the skills they developed during their day school years at a number of universities, including:
Brandies University
Stanford University
Creighton University
Washington University
University of Nebraska at Lincoln
University of Nebraska at Omaha
University of Wisconsin at La Crosse
New York University
University of Kansas at Lawrence
Colorado School of Mines
University of California at Berkeley