Admissions
Admissions/Notable Achievements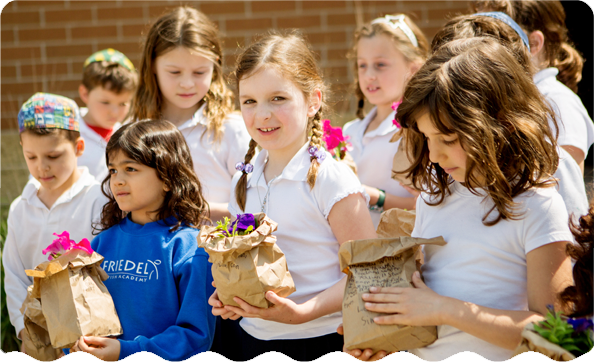 Over the years, Friedel students have distinguished themselves in many ways. Here are just some of our notable student achievers.
Danny Denenberg, who graduated from Friedel Jewish Academy in 2015, won the Heisman Trophy of speech contests when he took first place, out of over 90,000 competitors, in the national level of the Modern Woodmen of America speech competition. In addition to his sixth-grade-year state and national championships, Danny also won state in his fifth-grade year and was a top-10 finisher in the national competition that year.
Three other Friedel alumni have won the state contest over the years: Sara Kutler in 2009, Elissa Weiner in 2008, and Jacob Katzman in 1994.
Lilly Phillips was a 2012 Presidential Scholar.  The Commission on Presidential Scholars annually selects two high school seniors from each state based on academic success, completion of an essay, school evaluation and transcripts, plus evidence of community service and leadership.  As part of the essay, students are asked to recognize the teacher that most influenced their education.  "Coming from such a wonderful educational background, this choice was not at all an easy one for me,"  Lilly says.  "I chose to nominate Friedel Jewish Academy teacher Denise Bennett.  In my application essay, I shared how Mrs. Bennett set the bar for how learning could and should be.  How having been in an environment where reading was a competitive and cherished pastime, the more facts you knew the cooler you were, and math was…dare I say it…fun?  She instilled in me a love for learning that I've seen so many of my peers lose."
Students in recent graduating classes have achieved the following honors and awards:
Members in the National Junior Honor Society
First Place in the OPS District Middle School Think Tank
Selected for OPS All-City Music Festival, in both instrumental and vocal
State Champion as a Level 7 Trampolinist
Student of the Month – Kiewit Middle School
Student of the Week – Beveridge Magnet Middle School, and King Science & Technology Center
Omaha Community Playhouse Charles Jones Award to Recognize Excellence in Performance
Blue Ribbon Winner in all-school Science Fair
Honor Roll
Superior Honor Roll
Principal's Honor Roll
First Place in Beveridge Middle School Optimist Essay Contest
Theater Arts Guild (T.A.G.) Best Youth Actor, 2015 and 2016